Editing in Version 4
Remember, 3 hours of updates, help, and support is included in the Websites.ca Managed Package. You can just contact us with your updates and edits and we'll take care of everything for you - usually within a day or two.
Login to your Version 4 website from www.yourdomain.com/login (replace yourdomain.com with your own website address). Login with your username and password. If you don't have your username or password, click the 'Retrieve Your Password' link on that page.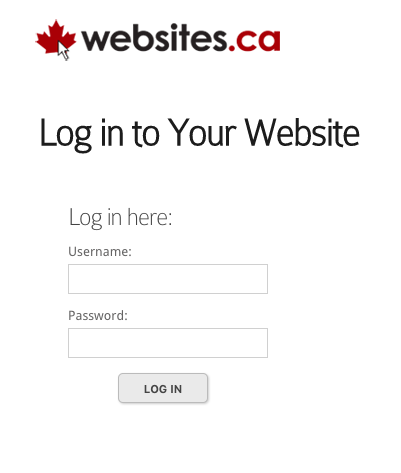 If you don't receive anything by email contact us, we might have a different email address on file for your website and the username/password will be sending there instead.
We have a great video series on all of the updating features of Version 4. If you get stuck or have a question about something that isn't covered, please contact us.
By the way, Version 4 hasn't been updated since 2014, and the sites are starting to look a little out of date. One main issue with Version 4 websites is that they don't always look great on a small screen like a mobile phone. https also isn't supported on Version 4. Contact us to discuss the options for upgrading your website to WordPress.
How to change the header and footer of your website (the stuff that shows up at the top and bottom of every page). Link to Video
How to add a picture to a Basic (Text & Pictures) page. (see Editing a Gallery below for managing an image gallery page. Link to Video
How to manage pages on your website, including adding a new page and adding drop-down menus. Link to Video
How to add a link to another website, to file like a PDF, or to an image. Link to Video
How to add and edit a picture gallery. Link to Video
How to manage the features of the catalog. Link to Video
How to customize and manage the options for a form on your website. Link to Video
How to manage the features of the blog. Link to Video